You are interested? So are we!
We offer apprenticeships and dual study programs in quite a range of commercial and technical professions. Would you like to learn a new profession with curiosity and commitment? You are more than welcome to join us: We will train you so that we can take you over later on.
Professional training at United Internet is unique - because it is what you make of it. Together with you we'll organize your professional qualification so you can get the most out of your time here with us. It is our goal to integrate you into our company after your training and then develop you into an expert or leadership for us.
A few years ago we also decided to start training people very successfully who had had to flee from their home countries.
Divers brands, products, themes
Your training will be just as diverse as United Internet. Depending on the opportunities, your respective location offers, you can get a taste of different departments and explore different brands, working methods and technologies. No matter whether you deal with e-mail, mobile communication or servers - it will surely never be boring with us. Cross-functional training projects and, of course, the time you spend at vocational school or Cooperative State University complement the training contents of the departments.
How the training is organized
Our training offers and our study courses take three years. Apprentices alternate between vocational school and working in the company on a daily or weekly basis, while students alternate between theoretical and practical phases every three months. Academic studies will be taught at the Baden-Wuerttemberg Cooperative State University at Karlsruhe, Mannheim or Stuttgart, depending on the respective subject you study.
The first year of your training focuses on basics. Depending on your individual profession, you will practice programming, train professional customer communication or perform sophisticated data analyses with Excel. Depending on your specific location, you can then go into greater depth on topics of your choice and change departments every three to six months during your second and third year of training. In your final training phase, we work towards your future employment with us and prepare you directly for the start of your career.
Best Place to Learn certified
Best Place to Learn, Germany's seal of approval for apprenticeship, only certifies companies that demonstrate that they provide young people with excellent qualifications. We put our training to the test and are proud to have received the award for the second time in a row in 2023. Our trainers, apprentices, dual students and former apprentices were surveyed on topics such as onboarding, integration into the company, professional learning, competence of our trainers and results of the training. We scored particularly well in terms of the opportunities our apprentices have to sharp their own apprenticeship.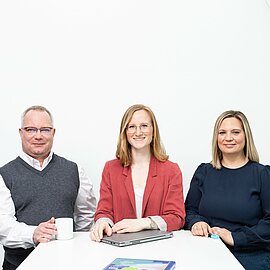 "Hello, we are Felix, Sophie & Christine, apprenticeship leaders at United Internet. We look forward to getting to know you and helping you find the right apprenticeship for you."
'At the beginning of my apprenticeship, I wouldn't have thought what a great variety awaited me in my day-to-day work. The apprenticeship is what you make of it!'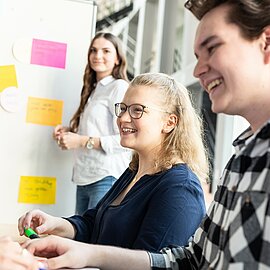 'The advantage of the dual study program is that you can already gain a lot of work experience by alternating between theory and practice. It's a lot of fun and you gain new experience every day.'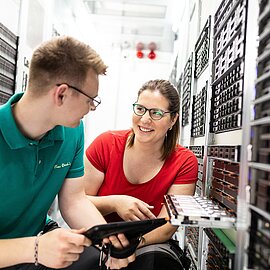 'As trainees, we don't just listen, we also get to work actively in the data center and learn about new hardware and how to replace it. As part of the team, we get to work hands-on right from the start, learn about processes, and see how such a large company is networked.'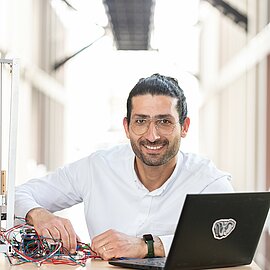 'In a world increasingly dominated by technology, it's a real joy to solve the puzzle that frustrates others. With every project I'm a part of, I grow as a confident IT professional who can help shape the future of IT.'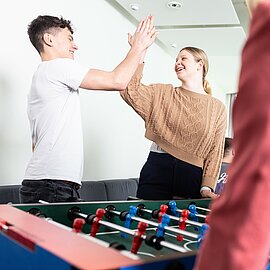 'The dual study program at United Internet gives us the opportunity to take responsibility, organize our time effectively and work independently. This helps you both professionally and for other areas of your life.'