Diversity is one of our most valuable assets: Only the combined individual strengths of our employees turn us into what we are - an internationally successful, innovative company on path to growth. Would you like to contribute to this with your very specific personality and experience?
United Internet represents a corporate culture appreciating diversity. Since only a workforce reflecting the many facets of our society can offer the most optimal conditions for creativity and productivity and makes employees - and the company itself – so very unique. This diversity creates incomparable potential for ideas and innovation enhancing our competitiveness and offering equal opportunities for everyone.
Different cultures, nationalities, genders, religions, age groups, sexual orientations as well as people with disabilities: We welcome diversity at United Internet and we promote it. We do not tolerate discrimination. The results of our regular internal surveys confirm that diversity is really alive for us here.
Diversity is taken into account in all sections of our company - in the selection and staffing processes to start with and also later on in personnel development. Individual suitability and commitment are the only criteria for your development and your career with us - and this is accessible and transparently presented to everyone. In addition, meetings, lectures, podcasts and workshops on topics such as "Unconscious Bias" help to promote diversity and eliminate prejudice and stereotypes in our everyday business life.
In order to bring the topic of diversity even further into the focus of all employees, we also held a three-day virtual in-house conference for the first time in 2021 - the Diversity Days. As part of the Diversity Days, we organized an exciting program for our employees that provided important insights for diversity into the organization. For us, a real success story!
"We place great value on diversity, appreciation and equality. Personally, this is also very important to me, diversity in practice leads to better solutions for our customers and to greater satisfaction at work."
"If we see diversity as an entrepreneurial opportunity and shape it together, we not only strengthen ourselves as an organization, but also make our contribution to society itself."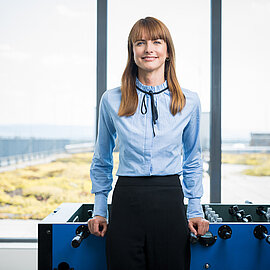 "A diverse corporate culture pays off: It leads to satisfied employees, greater innovative strength and thus to an increase in economic success."